So I Wrote A Book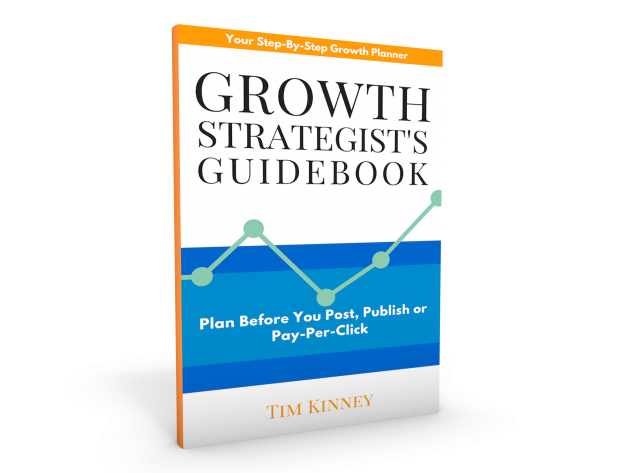 Check Out My First Book, the Growth Strategist's Guidebook
First, my apologies. I have not posted in a while and I'm sure this has left many of you disappointed (others, not so much.) I'm never as prolific as I intend, but, this time there's a good reason why I've been so quiet:
I wrote a book.
It is a short book, but, a book nonetheless. And it took a bit more effort and time than anticipated. Now, it is not the next great American novel. It is a non-fiction business book on growth planning I call the Growth Strategist's Guidebook.
Some of you may recall that last summer, I created and launched THRIVE!, a growth planning workshop webinar series. This year, I took all of those workshop exercises, feedback from the webinar participants and compiled them into a short, ten-chapter workbook.
The workbook is ideal for business leaders who want to grow their business and are looking for a place to start. Business leaders have so many questions about growth: what are my best options for growth? How much should I invest? Where should I invest to grow? And, our digital world offers so many new ways to promote your business, the challenge can quickly overwhelm even the most savvy business owner. In a matter of minutes, you can now launch a global digital advertising campaign from your mobile phone. But, before you post, publish or pay-per-click, I urge you to plan. And that's where the book can help.
The Growth Strategist's Guidebook walks you through the important elements of a marketing plan but also explores how to grow your business beyond traditional marketing. I also share a powerful framework to identify and evaluate your strategic options.
Here's my promise to readers: if you use it as a workbook and diligently complete all of the exercises, you will have a much better growth plan and make stronger strategic decisions for your busienss. Then, it is up to you to put that plan into action.
Please check it out and spread the word. By the way, Amazon is running great deals for the Kindle version, so go get a copy on the cheap here!