It's Time To Thrive
Every business needs a growth plan. Have you ever stayed awake thinking about how to increase your revenues and expand your customer base but haven't cracked the code?
Are you afraid your competition is beating you at your own game? Even if you love strategy and marketing, finding the time to focus on your growth plan while busy running your business seems impossible. So, how do you get it done, make it great and keep all of the other balls in the air?
Introducing The Thrive Workshop Series
Finally, there is a better way. The Thrive Workshop Series from Kinney Strategy gives you direct access to and mentoring from Kinney Strategy's founder, Tim Kinney, a proven growth consultant. Thrive Workshops give you the step-by-step convenience of a DIY online course with the real-time guidance and support from a trusted consultant. The Thrive Workshop Series helps you identify and evaluate more growth options and make better informed strategic decisions for your business. In just 10 weeks, you will have a powerful plan for profitable growth.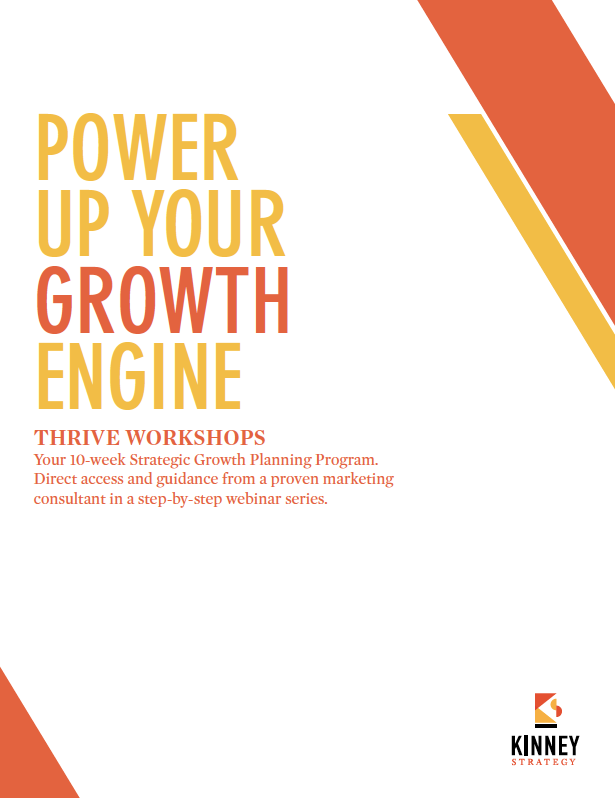 Check out the full program syllabus and description for all 10 weekly workshop sessions.
Then, power up your growth engine and register today!
All The Tools You Need to Succeed
The Thrive Webinar Series is jam packed with value. It truly is the most convenient, efficient and affordable way to build your growth strategy.
Is Thrive For You?
Not sure if the Thrive Webinar Series is right for your planning needs? No worries. There are 3 free ways to learn more:
Schedule a free phone consultation
Sign up for a free webinar sample session
Try the free E-Mail course
Free Consultation

Set up a 30-minute growth planning phone consultation with Tim Kinney.
Free Webinar

Take Thrive for a test drive in a free one-hour webinar February 3, 2016 at 12pm Eastern.
"Thrive worked for us. We collaborated on a strategic growth plan and exceeded target projections by 50% in the first quarter after launch. And, it was an excellent way to develop our in-house community relations team."
- Alex Ackerman, Ackerman Cancer Center

"Using the strategy developed in the Thrive workshops, my website traffic increased over 100% in one month. Thrive is excellent."
- Dave Pounder, ProVigilant


Need help? Call Tim Kinney.

Questions?
If you have any questions, please give me a call or send me an e-mail.
Phone: (904) 484-7010
E-Mail: tim@kinneystrategy.com
FAQs
Click here for answers to the most frequently asked questions about the program.