Rethink Your New Business Funnel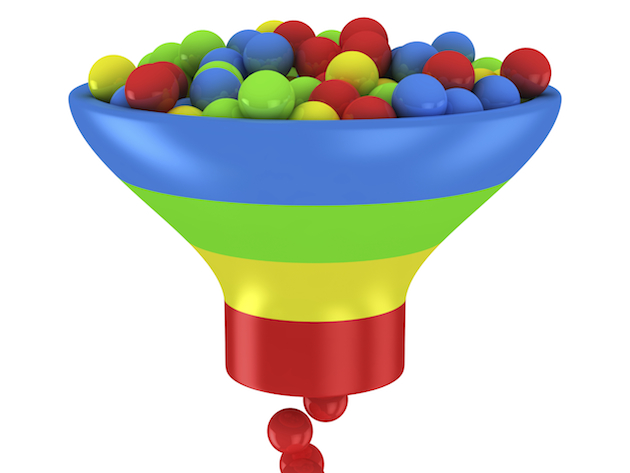 How to optimize your marketing and sales funnel to generate better leads, faster.
New thinking has reshaped the new business funnel, but it is still a critical component of your growth strategy. It is a powerful tool that helps define your business development process and also clarifies roles for both sales and marketing professionals. I am a fan of this strategic construct and use it with many of my clients. However, the traditional new business funnel needs some rethinking, retooling and customization to make it more relevant and potent for today's competitive environment.
Many companies are able to trace every step a new client takes in their buyer's journey -- from their first touch point to signed contract. Most companies cannot do that with great precision. New marketing automation and predictive lead scoring technologies are making that easier, however. Imagine your command over the new business process with this information. To get to that point, though, you may need to optimize your funnel.
Here are 5 ideas to re-tool your new business funnel that will help you drive better leads, faster.
1. There's probably more than one funnel.
A single, all-purpose funnel for your business may not actually work. You may need to create funnel variations for each target audience and possibly for each buyer persona. For sure, it is important to keep in mind the difference between an influencer and a decision-maker. Fans of your brand, who can strongly influence another's buy decision, are likely on a different journey. That might require the creation of a separate funnel that may intersect at some points with your original funnel.
2. Is there such a thing as a non-linear funnel?
As a strategic construct, the new business funnel is intentionally linear detailing the flow from awareness to loyalty with varying conversion points along the way. It is meant to provide structure to a buying experience that is actually a bit messy. It is quite effective in that way. However, we can't lose sight that the funnel is only a theoretical construct. It is not a true map of the new business process. So while it is still useful, we can't ignore the messy details of your customers' real buying experience. Conversions and sales are made in that mess, not in the abstract. In the real world, the customer journey is a lot murkier and often circuitous. How your sales and marketing teams adjust long that route will deeply impact your success.
3. How do you make a faster funnel?
Depending on your industry, you may not need a bigger funnel. But, you will likely need a funnel that moves customers through the funnel stages quickly. You will need to identify where in the funnel stages, customers and prospects are slowing down, getting stuck or dropping out. In the same stroke, however, I also urge clients not to skip funnel stages. For instance, pressing a customer who is early in the engagement stage and rushing them to buy today will almost always backfire. The most sophisticated funnels allow your sales and marketing teams to accurately read the customer's signals and make predictions about their next move so you can be there when they are ready.
4. Recycle leads. Don't throw them away.
Failure to recycling leads that flow through the funnel is a common challenge for companies whose sales and marketing teams are not in alignment. Many sales professionals do not always immediately see the value of the influencer. Often, because the influence is not a buyer (yet), the sales person will let the influencer fall off their radar because he/she is not an immediate sale. So, while disqualifying prospects is essential, it is still important to make sure that influencers and prospects that are not yet ready to buy now, need to be recycled into the funnel. (This is where a robust CRM system and marketing automation platform prove their value, but, more on those topics later.)
5. Work the numbers.
It will not take long for your sales and marketing teams to begin to identify patterns once you reach a significant volume of activity. From there, you will need to monitor and measure how leads convert and flow through your funnels. Then, refine your strategies and tactics to untangle bottlenecks and recapture prospects that drop out.
There is a lot of excellent thinking on the subject. If you want to explore it beyond my blog, here are a few sources from other thinkers I admire. Check out: